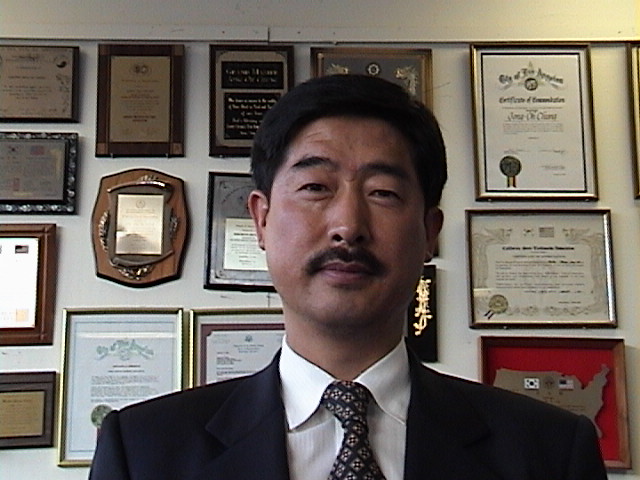 Grandmaster Chung Jong-Oh has been practicing Taekwondo for over four decades. Currently, he holds 8th Dan Black Belt in Taekwondo and 8th Dan Black Belt in Hapkido.
His passion and knowledge of these Korean martial arts prompted him to establish World Mission Taekwondo Association (WMTA) in 1984. He serves as its President since then. The Choong-Hyo Mission Taekwondo School is its headquarter.
Grandmaster Chung's taekwondo program has been recognized widely. His program has produced over 900 taekwondo black belts. He is the director of World Kido Association in California and an authorized taekwondo referee.
Grandmaster Chung is also active in the community. One of his many social activities is being a master of Los Angeles Guardian Angels, a program to keep neighborhood and community safe. His contributions to the community do not go unnoticed. At the celebration of WMTA anniversary last year, several high profile public officials recognized Grandmaster Chung's works. California Governor Gray Davis and Los Angeles Chief of Police Bernard Parks were two of them.
Grandmaster Chung's educational background is in teaching. This shows clearly in his various personal and
professional achievements
. He holds a doctoral degree in Oriental Medicine and is a licensed acupuncturist. He has given lectures about oriental medicine in various colleges. He is currently the president of International Qi-Gong Research Association and the director of Association of Korean Acupuncture and Oriental Medicine in California. He has been actively involved in various conferences and seminars about oriental medicine.
Grandmaster Chung's taekwondo skills have also been documented in movies. He is featured in Young Man Kang's independent movies '1st Testament: CIA Vengeance' and 'Soap Girl'. He also has some parts in the movies 'Thick Blood', 'Iron Palm', 'Paralyzed', and 'Security of Five Fingers'.
Related Links: